Access CrimeReports.com
The South Lake Minnetonka Police Department (SLMPD) serves the cities of Excelsior, Greenwood, Shorewood and Tonka Bay. The following link brings you to a map showing some of the activities handled by the SLMPD within the last 30 days. This only represents a fraction of the more than 14,000 activities typically handled by the SLMPD in a given year. (Source – Hennepin County Dispatch).
https://www.crimereports.com/agency/SouthLakeMinnetonkaPolice
About CrimeReports.com
The South Lake Minnetonka Police Department (SLMPD) is pleased to report that we have gone live with a valuable reporting tool for our community called CrimeReports.com.
Residents can view this electronic map as often as they wish to see what is happening in their community. The maps are updated every 24 hours.
The title boxes on the map represent activities handled by the SLMPD. For example "A" on the title box indicates an assault. Residents can decide which calls for service they are interested in seeing, or they can select and view every call for service. Details of the incident including the case number, location, date and time can be obtained by clicking the title box.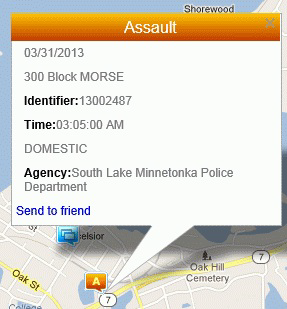 Residents may also register to receive alerts from local law enforcement agencies, by registering with the site, and providing the location(s) about which they wish to be notified. You could put your school, home and business down-and receive alerts for all three.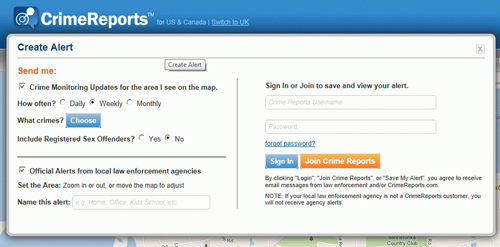 This visual representation of current crimes and calls for service can be located by visiting https://www.crimereports.com/agency/SouthLakeMinnetonkaPolice