Several west metro communities, including the communities of Excelsior, Shorewood, and Deephaven have reported being the victim of a burglary.  In MN, a burglary is when someone enters a building without consent and intends to commit a crime such as theft.
In the recently reported incidents, the suspects have gained access into the residence via open garage doors, unlocked service doors, and unlocked vehicles in the driveway with garage door openers inside. In one incident, a window was broken on a vehicle in the driveway, in order to use the garage door opener to gain access into the residence.
SLMPD is following up on leads, and are asking for the community's assistance with:
Staying vigilant about securing homes and personal property.
Securing garage and service entry doors.
Do not leave garage door openers in vehicles.
If your vehicle has a permanently installed opener, then manually secure or lock your overhead garage door.
Call 911 immediately if you see or hear anything suspicious
These incidents have reportedly happened when the residents were inside sleeping.  In the interest of public safety, we are asking that you do not attempt to apprehend any suspects. To date, there has not been any violent confrontations between victims and suspects, and the suspects have run away. We have no information that they have any intention for violence, and that quick grabs of electronics and purses are their main goal.
Please call 911 immediately if you suspect someone has entered your home or garage, or has attempted to. Additionally, if you suspect someone has been inside your vehicle, we ask that you report it as well.
South Lake Minnetonka Detectives are working with other affected agencies in an effort to quickly identify and apprehend the persons responsible for these crimes.
If you have any information regarding these incidents, please contact SLMPD at tips@southlakepd.com.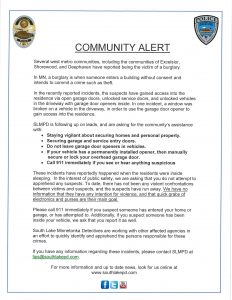 For more information and up to date news, look for us online at www.southlakepd.com